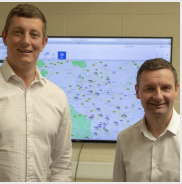 In this podcast episode Craig interviews Elite Business Academy member Tom Pickering from Clearance And Cleanup at his offices. Tom shares how becoming a member of the EBA has totally transformed his business and life. He talks about the challenges he had in his business and how he developed a new mindset to overcome them. He shares how attending the EBA's business coaching, networking and motivational events has helped him to improve and grow his business.
What You Will Learn From Listening To This Podcast 
1. How networking has helped Tom win more business and increase his turnover
2. How discovering personal development has helped him to become more confident
3. How changing the business model has helped to attract him ideal clients
4. Making more profit has allowed Tom to employ more members of staff.
5. His honest advice to anyone running their own business
Contact Tom Pickering
Visit Clearance And Cleanup Website https://clearanceandcleanup.co.uk
Call Tom's Team on 0800 4101086
Subscribe To Our Youtube Channel https://bit.ly/2KWBkbL
Podcast Episode Playlist http://bit.ly/2ElGxlp
Subscribe and Listen To Our Podcast On Your Favourite Apps
Listen and Subscribe through Youtube https://bit.ly/2KWBkbL
Listen and Subscribe through Apple iTunes https://apple.co/2QQLON4
Listen and Subscribe through Podbean for Android devices https://eba.podbean.com/
Listen and Subscribe on our Website https://bit.ly/2TWIduY
Listen and Subscribe through Spotify https://spoti.fi/2LKeH6U
Lets Connect On Social Media
Facebook http://bit.ly/2tZiuZL
Facebook Group and Community http://bit.ly/2xZTfEI
Instagram http://bit.ly/2G80O2S
Twitter http://bit.ly/2GI54Eg
Linkedin http://bit.ly/2DDlwTb
Check Out Our Website For More Business Coaching Videos, Motivational Content and Dates of Our Events http://bit.ly/2J0HbdN
Contact Our Friendly Team 
Email us - Support@EliteBusinessAcademy.co.uk